FREE DAY FOR PARENTS OF SCHOOL CHILDREN
Starting in 2022, employees at our Serbian subsidiary who are parents of a first-year pupil have been given an additional day off for the first day of school. Our subsidiary in Croatia already offers this to its employees.
PLANTING TREES TOGETHER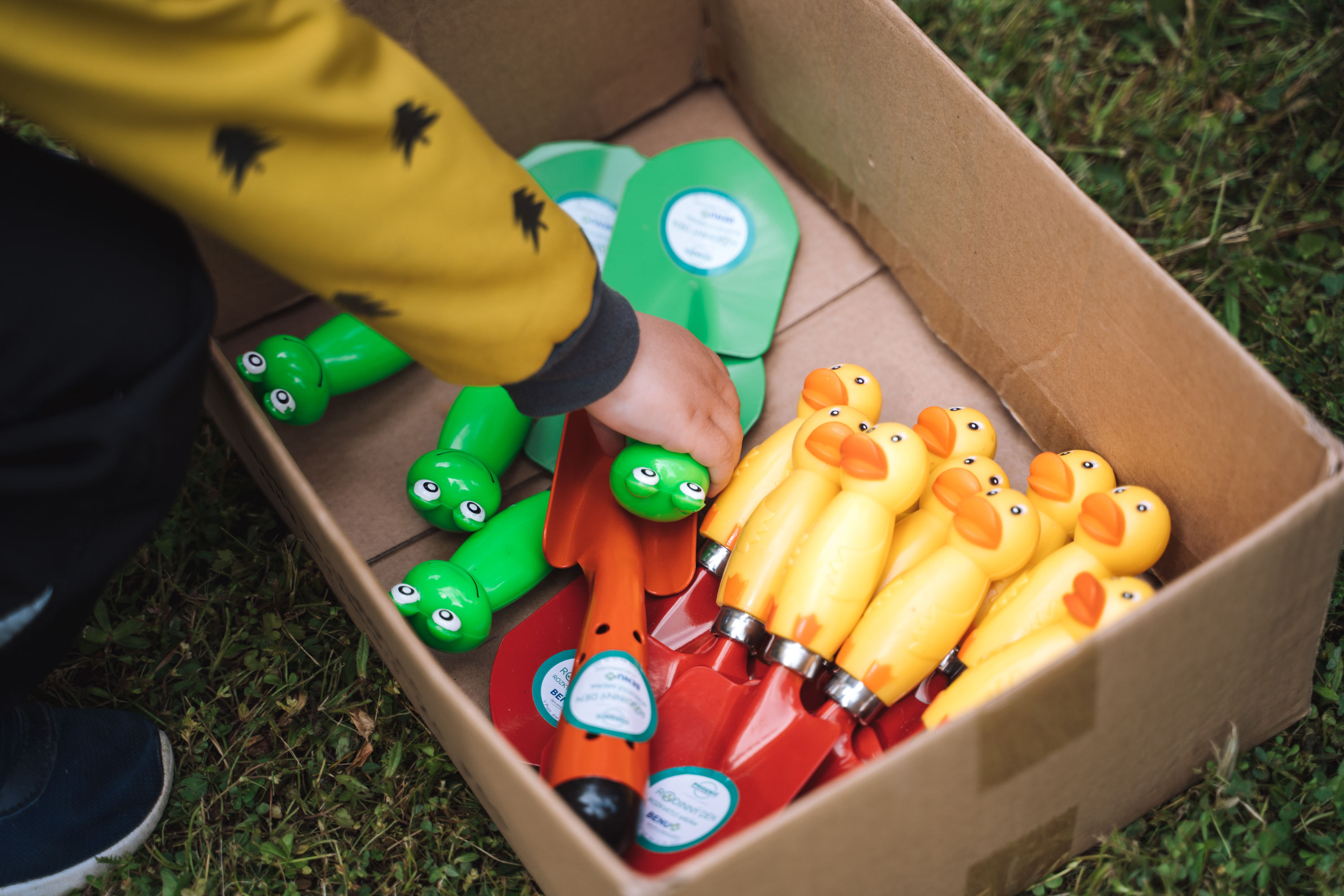 Working together for the benefit of the environment, greening the grounds of the Czech headquarters and having fun at the same time: this was part of the family tree-planting campaign initiated by our Czech subsidiary. All its employees were called upon to participate and, together with their families, the colleagues planted trees and shrubs on the company grounds in Prague.
SAVING ENERGY WITH THERMOGRAPHY

During the reporting year, our Estonian subsidiary had its office and logistics building thermographed. Special equipment was used to measure air-tightness and a thermal imaging camera was used to measure temperature. Overall, the results far exceeded expectations. Any leaks that were found could be repaired. Thermography was also carried out at the German distribution centre in Bad Kreuznach.

WASTE MANAGEMENT TRAINING TOOL
Every year, our Macedonian subsidiary carries out training sessions for all its employees regarding the proper handling of waste. This includes, for example, learning about the types of waste generated at the PHOENIX group and how to dispose and recycle them correctly in order to conserve resources. In this way, every employee can actively contribute to protecting the environment.
RECYCLING THEME DAY
An information afternoon on waste separation and recycling was held at the Créteil site in France. The recycling company Paprec was present with a stand where they provided employees with information, virtual reality demonstrations and goodies. In Finland, a recycling theme day was also held at two sites in 2022.
CONSERVING RESOURCES BY USING TOTES MADE OF RECYCLED MATERIALS

The PHOENIX group uses recyclable plastic totes to transport medicines and other healthcare products. In the future, almost all of these totes will be made from recycled materials. Our Italian subsidiary Comifar first initiated this changeover: all of its totes, purchased for the Novate site in 2021, are made from 100-percent recycled plastic. This step saved 11 tonnes of plastic in just one year. Four other subsidiaries have successfully tested this approach as well. Step by step, totes made from recycled materials are being tested and introduced at all PHOENIX sites. Once this changeover is completed, the PHOENIX group expects to save 750 tonnes of plastic annually across the group. In the future, discarded totes will also be returned to the recycling loop.
CIRCULAR ECONOMY IN PHARMACIES

Our Danish subsidiary Nomeco is participating in a recycling project of Novo Nordisk in the value chain: since 2020, customers have been able to return used disposable insulin pens to selected pharmacies – and Nomeco collects them at the pharmacies. Since delivery runs are made to the pharmacies in any case, no additional transport emissions arise from the collection. Nomeco stores the pens, and transport companies contracted by Novo Nordisk regularly take them to a special recycling facility. This project aims to reduce the incineration of medical waste and increase recycling; the glass inside the pens and their plastic housings are of the highest quality. The participation of additional subsidiaries in this project is in the planning stage.
DELIVERING MEDICINES BY SOLAR-POWERED BIKE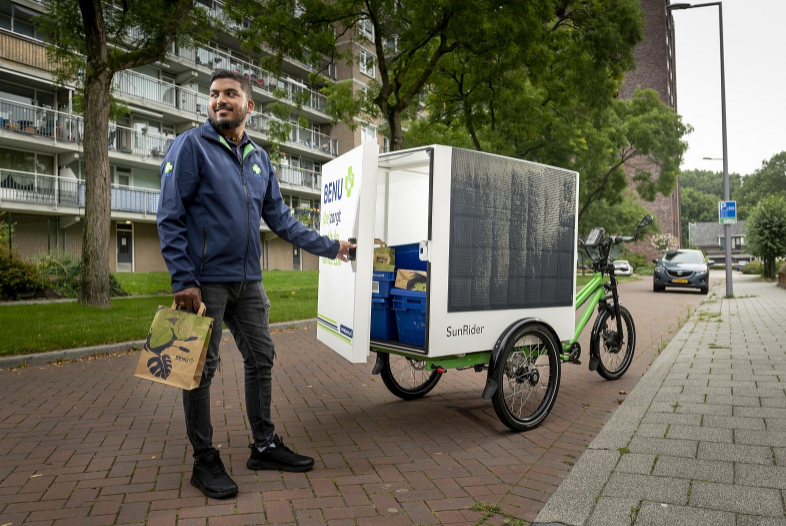 Our Dutch subsidiary delivers medicines in Rotterdam with the help of solar power: the SunRider, the first cargo e-bike which charges itself with solar energy while on the road. The SunRider picks up medicines at the BENU Hub in Rotterdam and delivers them to customers. If the sun isn't shining, the SunRider can also be charged via the electricity grid. Since the first SunRider was introduced, four additional solar-powered bikes have taken to the roads in the Netherlands.
BIOGAS INSTEAD OF DIESEL

Our Swedish subsidiary has taken an important step towards more sustainable transport by switching from diesel to biogas for all internal transport between its distribution centres in Gothenburg and Stockholm. This will reduce carbon emissions on this route by around 80 percent.
CIRCULAR ECONOMY IN THE SUPPLY CHAIN
To save raw materials and prevent waste: this is the aim of the recycling chain for excess iodine that the Finnish subsidiary Tamro has set up together with GE Healthcare. GE Healthcare produces contrast agents and was the first company in the world to offer a recycling service for the iodine contained in them. Tamro delivers surplus contrast agents from hospitals to GE Healthcare for recycling and collects new contrast agents for distribution. There are no additional transport emissions as the existing logistics network is used.